The Best Fishing Outrigger Sales, Installation and Repairs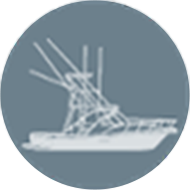 Maximize your fishing experience with the help of Blue Water Marine, your source for outrigger sales, installation, and repair in Miami, Ft. Lauderdale, and the Treasure Coast. We conveniently install your outriggers at your dock or marina. We install sets of lee's and rupp outriggers in just one to two days, based on the size of the boat. Custom installations are also available.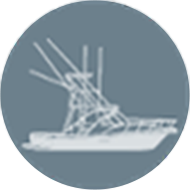 Blue Water Marine sells, installs and repairs outriggers in South Florida fast. We work on all major brands and sell only new, quality products from the manufacturers you trust, including Lee's­™ and Rupp™.
All of our sales, installation, and repair services are customized to meet your unique needs.
Lee's and Rupp Outrigger Repair and Installation in Miami, South Florida, and the Treasure Coast
Lee's and Rupp Outrigger Repair and Installation in Miami, South Florida, and the Treasure Cove. Fishing is something that Florida residents do often, and it's something people from all over the world come here to enjoy. Fishing in the deep blue waters off the coast is a one-of-a-kind experience that's both enjoyable and memorable, and whether you're a first-time angler or a seasoned one, having the right equipment is essential. One of the most important pieces of equipment all serious anglers should have on their boat are outriggers. If you want the best fishing outriggers, sold and installed by fishing professionals, then BWM Outriggers in Ft. Lauderdale can help you.
Outfit your boat with new, durable, and reliable fishing outriggers, rod holders, and parts from Blue Water Marine of Miami, Ft. Lauderdale, and the Treasure Coast. We provide sales, installation, and repairs for most major brands and other specialized fishing equipment for boats of all sizes. We strive to provide the best Outrigger repair and installation in Miami, Ft. Lauderdale, and the Treasure Coast area.
In business since 1990, we have built an excellent reputation for providing fast, quality services at fair prices. All work is customized to meet your needs.
BWM Outriggers offers high-quality outriggers in the Miami, Ft. Lauderdale, and the Treasure Coast areas. Our owner is a fisherman himself and has been working on boats for more than 35 years. He understands that serious anglers demand quality, which is why he works with only the best manufacturers in the industry. We are factory authorized dealers for Lee's Outriggers and all other major brands. We offer professional outrigger installation at great prices, and we can help you choose the right set-up for your particular boat.
If you're happy with the outriggers you currently have, but haven't been able to use them due to damage or wear, then you're in luck. In addition to offering new outrigger sales and installation, we also provide our customers with repair services. We can repair your old, damaged, or worn out outriggers with expert precision and accuracy, leaving them functioning like new. And, when it's time for something new, you can come back and choose a reliable, durable, and modern outrigger package that we'll install for you quickly and efficiently.
If you're looking for a set of fishing outriggers in South Florida and the Treasure Coast area, don't settle for sub-par equipment or sloppy installation, try BWM Outriggers for quality and expert installation. We work hard to provide our customers with the best outriggers, timely installation, expert repair, and great customer service. Check out the rest of our website to learn more about us and the services we provide.
Contact Us
Every new boat and job is different, so contact us today for a sales, installation, or repair consultation. We'll provide you with a quote based on your boat and the type of new outriggers you want or have. We also offer on-site inspections for more accurate bids.
Phone Number
(954) 895-7130
Hours of Operation
Monday–Friday,
8:00 a.m.–5:30 p.m.
Emergency & After-Hours Services Available
Service Area
Serving South Florida and Treasure Coast area, Miami, Ft Lauderdale, Stuart, the Florida Keys, and all of Dade Broward, Palm Beach, Martin, and St. Lucie Counties.